---
MAIN FEATURES

Level 2 AC Charger
Current: Max 19.2 kW (80A)
Output: SAE J1772 Type 1
Operating temperature: -35 ~ 55°C / -31 ~ 131°F
START CHARGING
Option 1. Plug and Charge
Insert the charging plug into the EV

Charging session starts
Option 2. Using a RFID card (Optional- Depends on the charger/location settings)
Insert the charging plug into the EV
Swipe card
Waiting for authorizing
Charging session starts
Some EV chargers have a built-in RFID reader. If yours do, drivers can use RFID cards to transact. RFID cards are linked to the company or driver's account, enabling everything from automatic charger unlocking to credit card billing (if it's the case).
Option 3. Using app/QR code (Optional- Depends on the charger/location settings)
Scan the QR code displayed on the charger case (iOS and Android allowed)
Immediately you would be taken to ChargeLab's web app
Users don't need to download a dedicated app to interact with your EV Chargers.
STOP CHARGING
Unplug any time (disconnect the charging plug from EV to stop charging session)
Session ended (please return the connector to the holster)

LOCKED CONNECTOR
In some cases, the EV locks the connector. To unlock the connector, obey the instructions for the EV. It may be necessary to unlock all doors of the EV, or use the 'unlock charge connector button' on the car key, if present.

STOP
Charging will stop without user interaction:
• In case of alarm/hazard.
• When the battery is full, the charge session stops automatically.
• When the maximum charge time set by the operator/owner has been reached.
INTERRUPT CHARGING.
Auto restart. When a charging session is interrupted due to a temporary error condition, the charge point will automatically restart charging when the cause of the temporary error condition returns to normal. Status indicator lights remain flashing RED until the error condition is resolved.
Temporary error conditions include: Over Current (OC), Over Voltage, Under Voltage, and Over Temperature.
For Over Current conditions: The charging session will be stopped while OC occurs. After recovery from OC for 30 seconds, the charge point will automatically restart charging for three times.
When charging session stops due to CCID trip, the charge point will try to restart after 15 minutes for 3 times.
Power outage recovery. When power resumes after an outage, the charge point restarts automatically with a delay ranging from 120 to 720 seconds. The delay is designed to avoid impacting the utility grid when multiple charge points are in the same area attempting to resume charging simultaneously.
STATUS LIGHT INDICATORS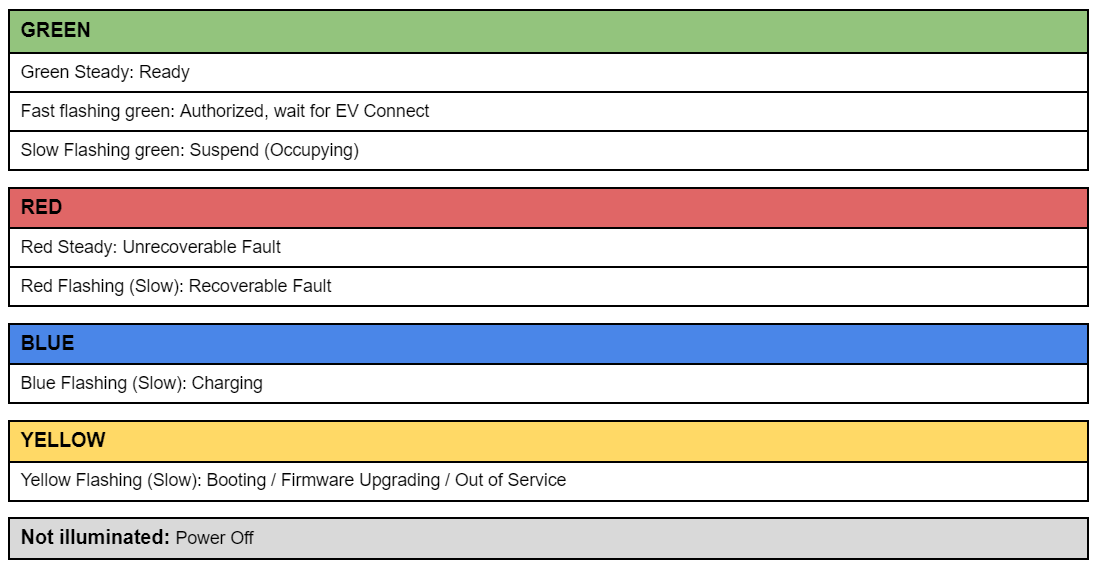 DISPLAY STATUS
Initializing…

System booting includes self testing.

NOT READY

Charger is NOT READY for a new charging session.

AVAILABLE

Charger is AVAILABLE for a new charging session.

PREPARING

Charger is preparing for charging, basically charger will be in PREPARING state in two cases:

(1) After plugged in charging connector and waiting for authorization,

(2) After authorization and waiting for the plug in charging connector.

CHARGING

EV is CHARGING from charger.

SUSPENDED EV

When the EV is connected but the charger is not offering energy to the EV due to following possibilities from the EV side, such as delay charging enabled from EV, error occurred in EV and lead to stop charging, and so on.

SUSPENDED EVSE

When the EV is connected but the charger is not offering energy to the EV due to following possibilities from the charger, such as smart charging restriction, local supply power constraints, and so on.

FINISHING

When the charging session stopped, but the charging connector did not unplug yet. So this charger is not available for a new user and will display FINISHING.

RESERVED

When the charger has been RESERVED through OCPP "Reserve command".

UNAVAILABLE

When charger becomes UNAVAILABLE for following possibilities:

(1) Received "Change Availability to Inoperative" OCPP command and went into Inoperative State.

(2) Charger is under a remote firmware upgrading process.
Further recommended reading:
---
DO YOU HAVE AN ISSUE THAT REQUIRES FURTHER ASSISTANCE?
Please, do not hesitate to contact us trough:
7Gen Customer Support Portal. By clicking here you can find instructions on how to create an account within our support center.
Email: support@7gen.com
Call: +1 855 743 6938 (+1-855-7GENZEV)
---